Description
Music starts to really groove when you can feel the bass in your body. The ICOA SUB can deliver as much bass as you want – to get the people rocking and entice them to the dance floor. It can even lend a multimedia presentation that special oomph it needs to reach its audience.
The ICOA SUB pumps out serious bass and gives you greater headroom and a clearer sound. This is because your subwoofer relieves the main speaker, whose woofers are now less burdened by high-energy bass impulses, resulting in less intermodulation distortion. Even at higher volumes, the sound doesn't get muffled. Voices and instruments stay crystal clear.
Thanks to its powerful Class D amplifier with 600-watt RMS or 2400-watt peak output, you have some serious power at your command. The presets of the integrated DynX DSP – which offers crossover frequencies of 80, 100 and 120 Hz – let you finely balance your ICOA SUB perfectly with your system. Signal polarity can also be reversed and the SUB offers a delay line-preset for distances up to 10 meters.
When your needs begin to expand as the venues get bigger, your setup can grow along with you. Simply add more ICOA SUBs, which can be operated in parallel, giving you more and more power. You can also take advantage of the cardioid-preset. Simply position the additional subwoofers next to your ICOA SUB facing to the rear and enable the cardioid-preset to get a quieter and controlled low-end at the back while still keeping the punch at the front.
The rugged housings made of 18 mm laminated wood can be stacked, while the M20 thread on top lets you mount the main speakers using a distance pole. Transport is simplified by mounting rollers to the rear. Corner protectors guard the edges during setup. To keep the ICOA SUB from slipping out of your hands, its four aluminium grips are covered in rubber.
Whether you're a DJ, singer-songwriter, rock or party band, the ICOA SUB produces the perfect bass to complement your live music. Lectures and multimedia presentations also benefit from its clarity and powerful presence, giving you the proper support to amplify emotions in your audience.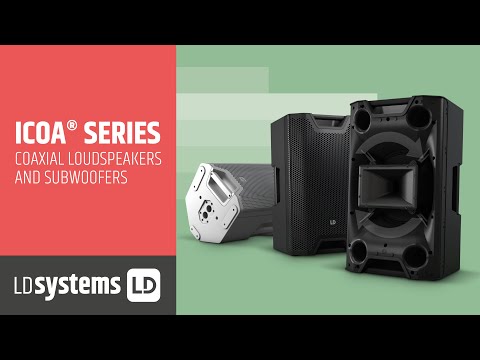 Specifications
| | |
| --- | --- |
| Product type | PA subwoofer |
| Type | Powered |
| Low/mid driver dimensions | 18 " |
| Woofer size | 457.2 mm |
| Woofer magnet | Ferrite |
| Woofer brand | Custom-made |
| Woofer voice coil | 4 " |
| Woofer voice coil (mm) | 100 mm |
| Amplifier | Class D |
| RMS | 600 W |
| Peak power | 2400 W |
| Frequency response (-10dB) | 29Hz Preset depending |
| Max. SPL (peak) | 133 dB |
| Protection circuits | Excursion Limiter, over voltage, over-current, Peak Limiter, thermal overload |
| Controls | Push encoder |
| Indicators | LC display |
| Line inputs | 2 |
| Line input connectors | XLR/6.3mm jack combo jacks (balanced) |
| Line outputs | 2 |
| Line output connectors | XLR |
| Operating voltage | 100 – 240 V |
| Power consumption (max.) | 675 W |
| Operating Temperature | 0 – 40 °C |
| Relative Humidity | < 60% (non-condensing) |
| Cabinet material | 18 mm Multiplex |
| Cabinet surface | texture paint |
| Cabinet construction | Bass Reflex |
| Width | 626 mm |
| Height | 672 mm |
| Depth | 637 mm |
| Weight | 44,3 kg |