Backlit silent Bluetooth page turner for iPhone, iPad, Mac and Android
Now, using an iPhone, iPad, Mac or Android on stage for set lists and sheet music just got a lot easier! iRig BlueTurn is a Bluetooth page turner with silent backlit pad buttons that easily lets you turn pages and scroll through material hands-free. If you'd like to streamline the page turning process for your sheet music, lyrics, slides, tabs and other documents, iRig BlueTurn is the answer.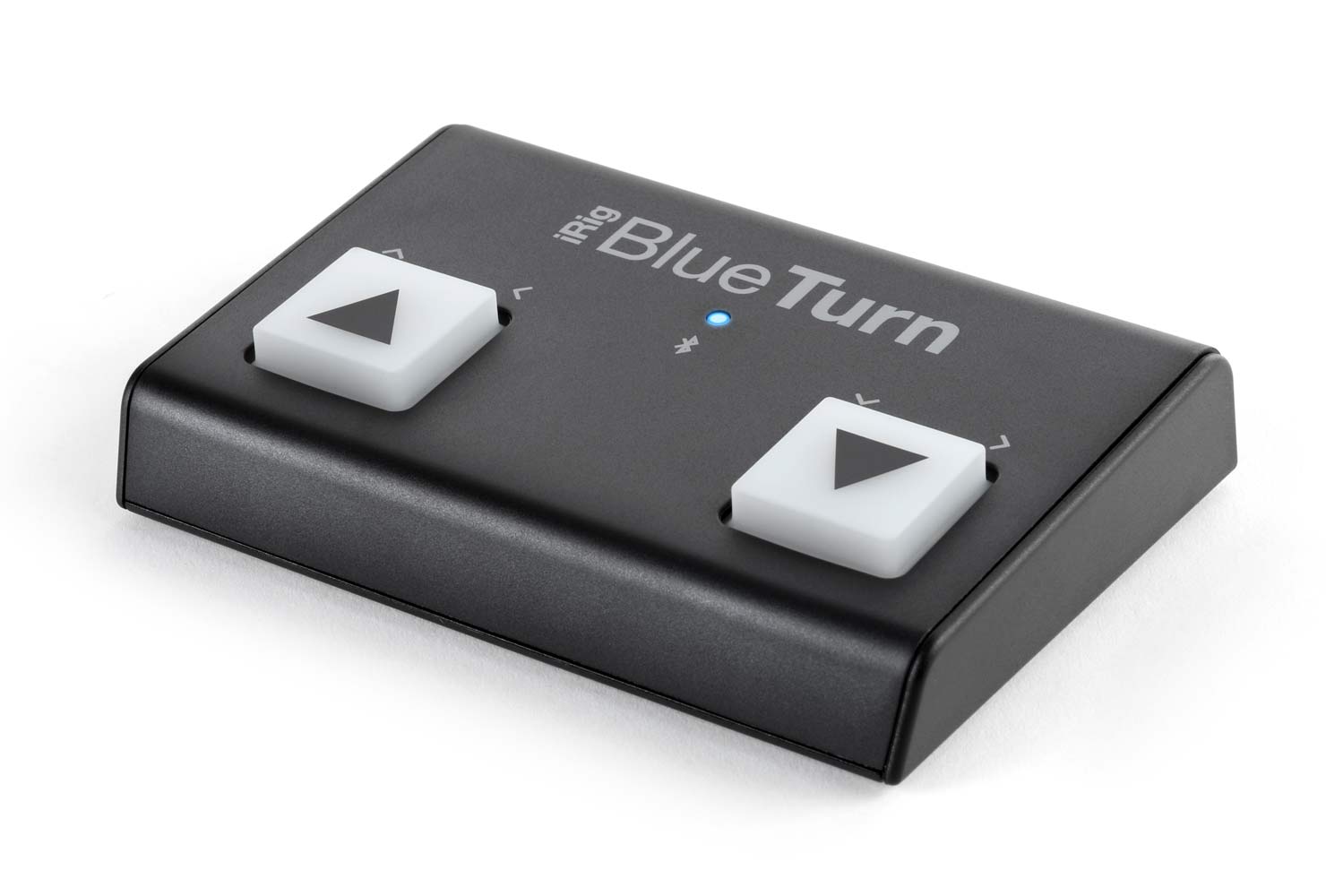 iRig BlueTurn is a compact Bluetooth page turning solution for iPhone/iPad, Mac and Android that lets you use your feet to set your hands free while performing. It comes with two highly visible silent backlit pad buttons that you can trigger with your feet to turn pages, leaf through lyrics, scroll slides and more in your favorite apps and software.
Now, with iRig BlueTurn, you'll be ready to perform at your best no matter whether you're conducting an orchestra, playing music from a score, shredding through some guitar or bass tabs, giving a major presentation, lecturing, or making a speech. With iRig BlueTurn, it's your turn.
Portable page turning
iRig BlueTurn lets you take control from the floor with ease. Its two noiseless buttons send HID messages to a synced device via Bluetooth LE technology.
Just pair iRig BlueTurn with your device or computer, fire up a compatible app — iRig BlueTurn works with all of the popular page turning and document viewing apps and software including IK's own iKlip Stage — and you'll be ready to go.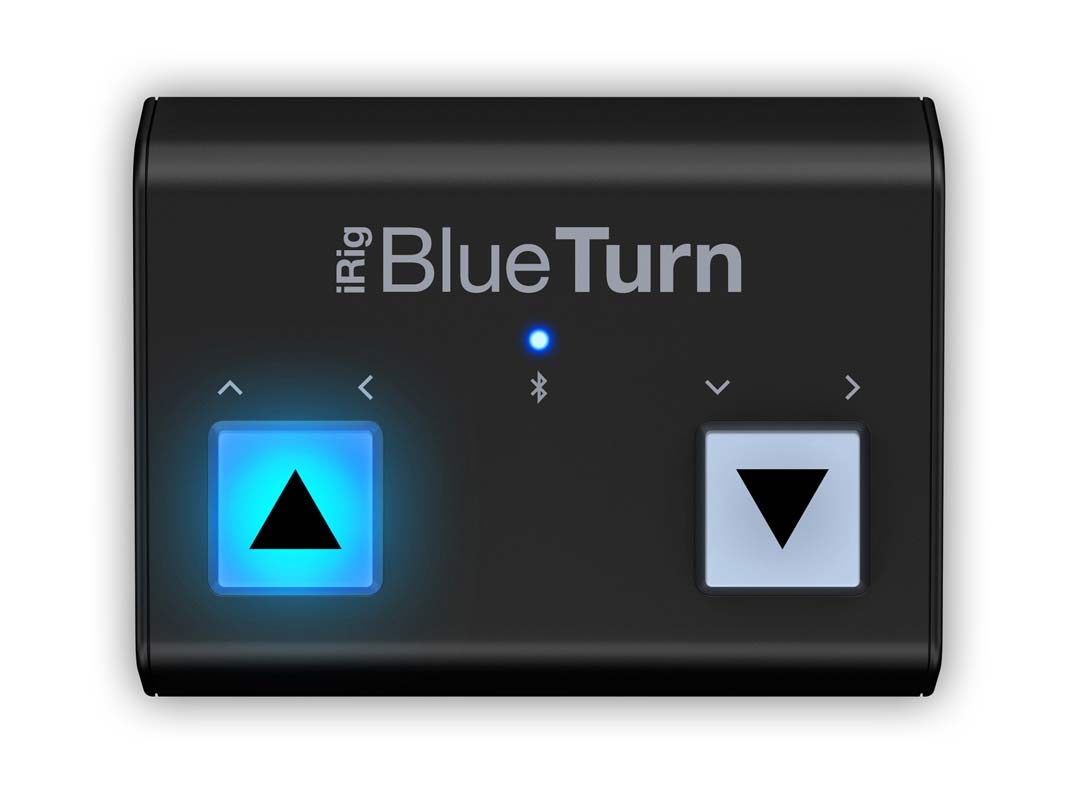 iRig BlueTurn's buttons can be used in three different configurations: They can send Page Up/Page Down, Arrow Up/Arrow Down or Arrow Left/Arrow Rightcommands depending on what you want to do.
These different modes can all be chosen directly from the hardware when powering up.
Backlit and silent
Let's face it: you're not always going to be performing in areas with a lot of light. In fact, if you're presenting a digital slideshow, performing music on stage or giving a lecture, there's a good chance the space around you will be pretty dark. That's where iRig BlueTurn comes in. Its buttons have backlighting, which means that you'll be able to see and use it no matter how much (or little) ambient light is around you. Plus, the buttons make absolutely no noise when pushed making iRig BlueTurn perfect for symphonic performance where dynamics are the centerpiece of the composition.
Compact & mobile
iRig BlueTurn is as mobile as you are. Small in size and road-ready, iRig BlueTurn is an ideal travel companion. It features a rugged and durable enclosure that's small enough to easily fit into a small bag or backpack. It runs on 2 AAA batteries that last a long time thanks to its ultra-low energy consumption.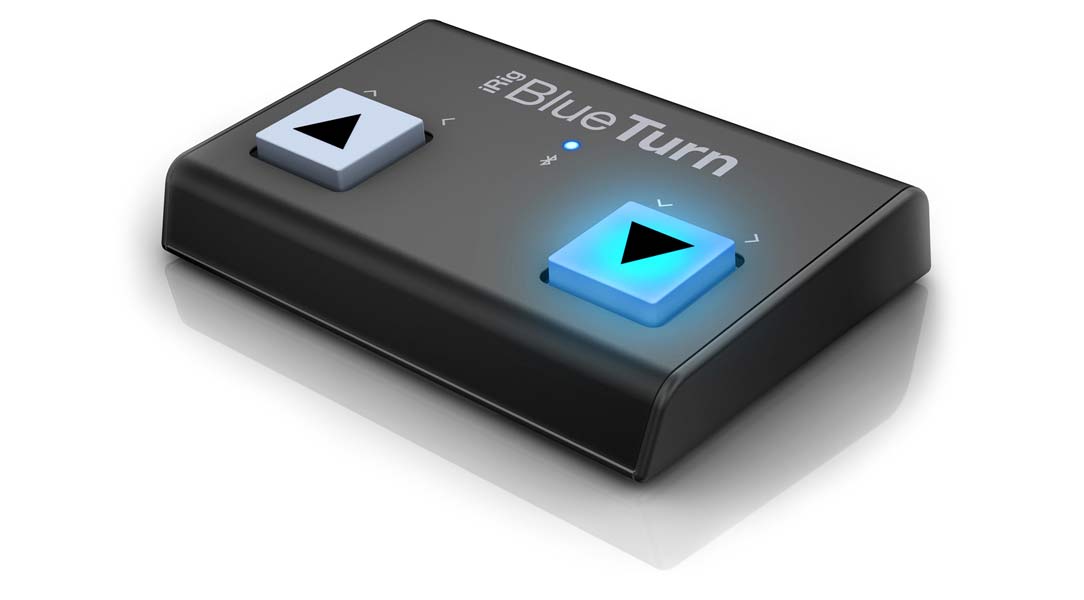 Wireless wizardry
Because it communicates wirelessly with your mobile device, iRig BlueTurn leaves all of your device's connection ports open — it's perfect for use with any connected interface or accessories.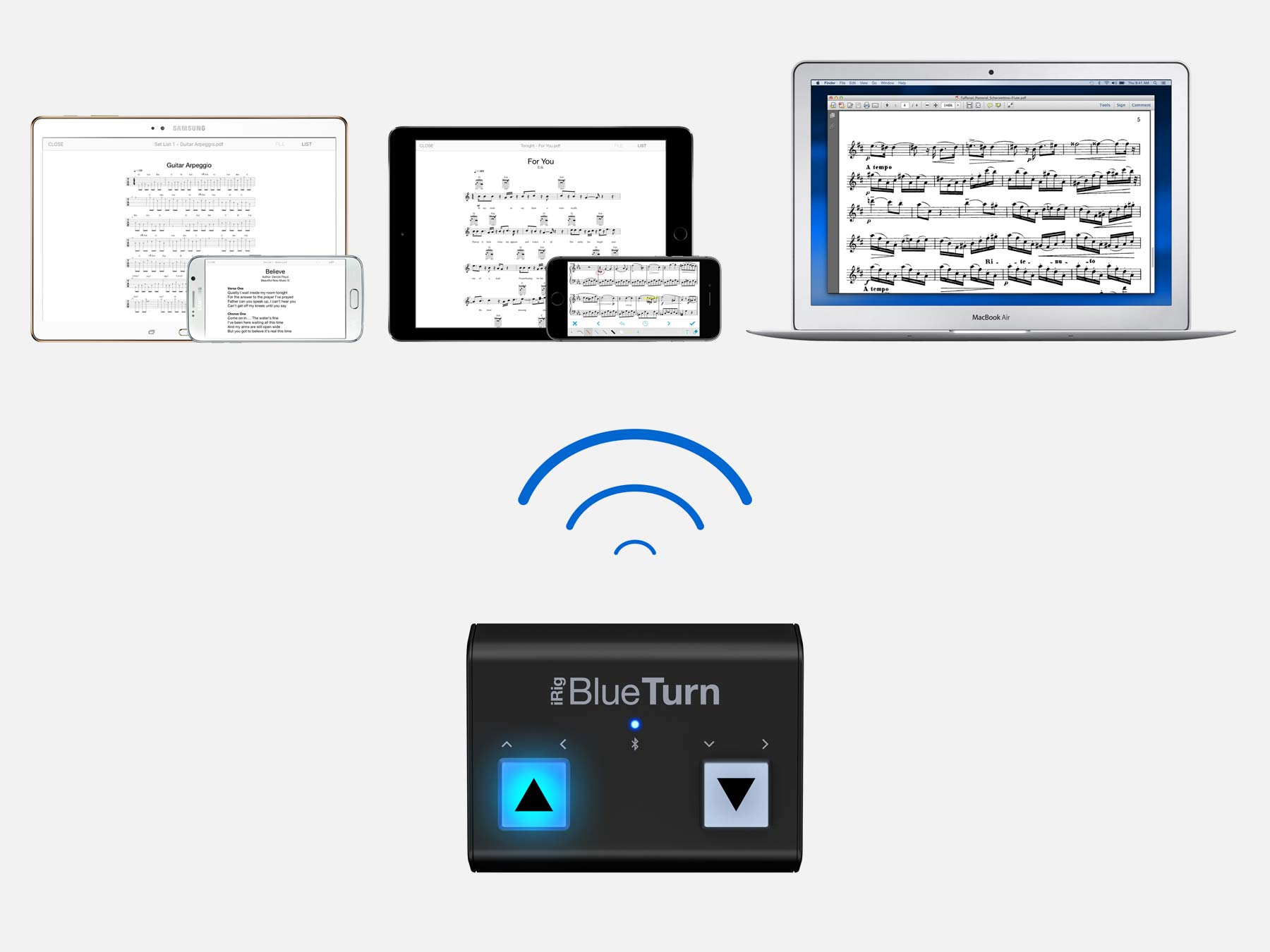 Cross-platform compatible
iRig BlueTurn can be used with an iPhone, iPod touch, iPad, Mac or any Android device with OS 4.3 and above that supports Bluetooth LE.
Features
Turn pages and scroll sheets wirelessly over Bluetooth LE
2 highly visible backlit silent footswitch buttons
Sends HID messages over Bluetooth LE
Compatible with iKlip Stage and a wide variety of apps and software
3 different mode configurations – Arrow up/down, Page up/down or Arrow left/right
Compact size can be carried anywhere
Durable road-ready enclosure
Runs on 2 standard AAA batteries
Specs
iRig BlueTurn Specifications
Communication: Bluetooth Low Energy (4.1)
Approximate Range: 10m/33′ subject to orientation and other factors
Two backlit silent foot switch buttons
Low-intensity backlight on foot switches for high visibility in low light conditions
Long battery life due to BlueTooth LE operation
Lightweight sturdy and durable construction
Package includes
iRig BlueTurn foot controller
2 x AAA batteries
Dimensions
Size: 126mm/7.72″ x 93mm/3.66″ x 25mm/0.984″
Weight: 125g/4.41oz
Requirements
iOS Devices
Compatible with iPhone X, iPhone 8 Plus, iPhone 8, iPhone 7 Plus, iPhone 7, iPhone SE, iPhone 6s Plus, iPhone 6s, iPhone 6 Plus, iPhone 6, iPhone 5s, iPhone 5c, iPhone 5, iPhone 4s, iPod touch (6th and 5th generation), iPad Pro, iPad mini 4, iPad Air 2, iPad mini 3, iPad Air, iPad mini 2, iPad 4th generation, iPad mini, iPad 3rd generation. iOS 5.0 or later is required.
Computers
Mac®: Compatible with any Mac that supports Bluetooth 4.0 / Bluetooth Low Energy. Models: iMac, Mac Mini, MacBook Air, MacBook Pro (all models from June 2012 on). Mac OS X 10.7 or later is required.
Android Devices
Compatible with most Android smartphones and tablets that support Bluetooth 4.0 / Bluetooth Low Energy. Android 4.3 or later is required.