High-end sound without
the high-end price
Linear frequency response. Zero coloration. Transparency. Headroom. To hear the truth, you need reference speakers that offer up. And if you work in a home or small studio you have even greater challenges, from the lack of space on your desk to the "less than ideal" position of your audio workstation, typically placed against a wall.
Now, with iLoud Micro Monitor, you can hear the truth in your music anytime and everywhere. The smallest active studio reference monitoring system in the world, iLoud Micro Monitor provides you with ultra-accurate true linear frequency response with no coloration, and does so in every listening environment, especially in home and project studios. Sound too good to be true? Read on…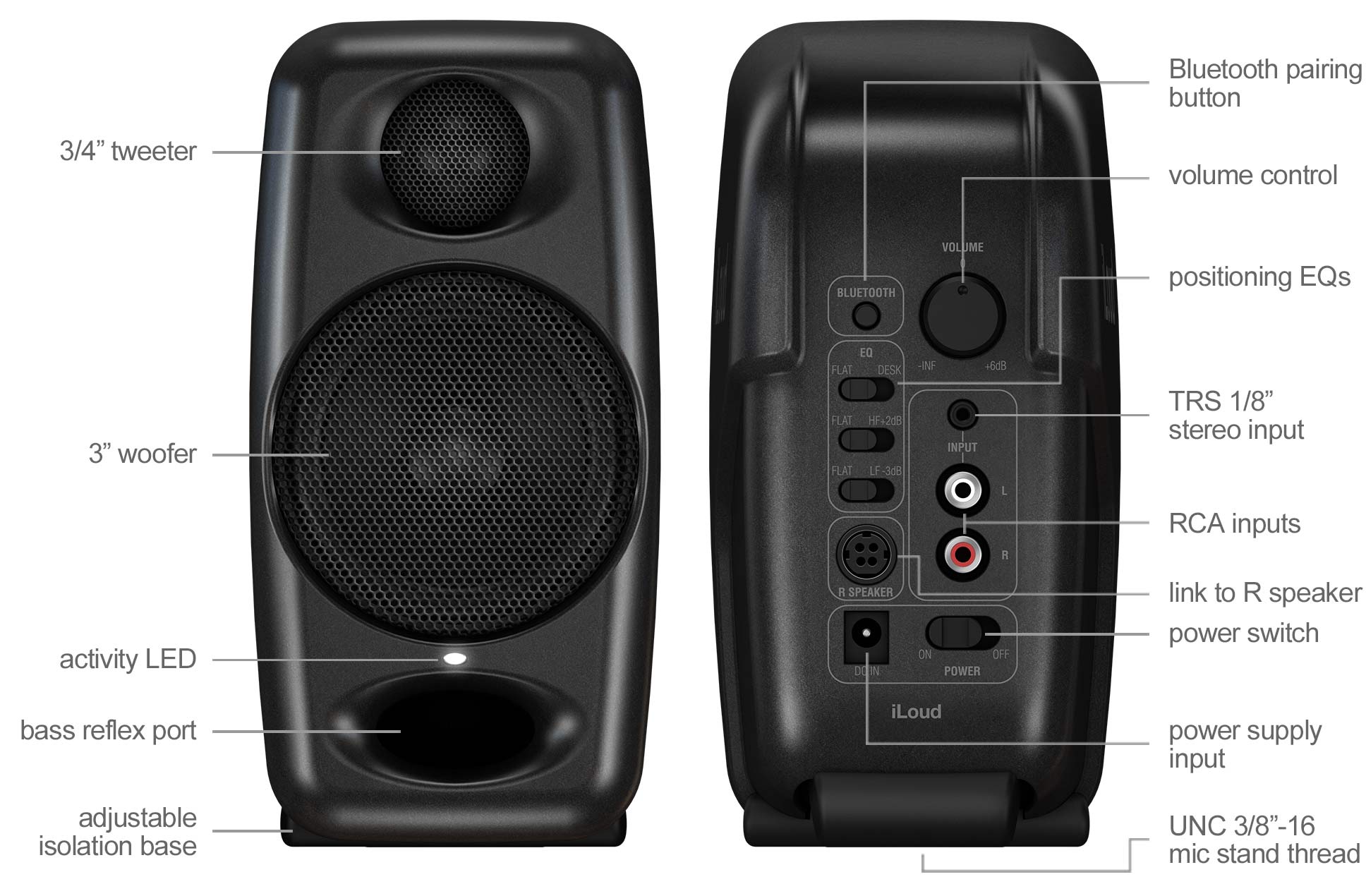 iLoud Micro Monitor is two extremely portable, high-performance bi-amped speakers that delivers a combined 50W RMS of power for solid bass, plenty of headroom and a stunningly defined stereo image. Whether you're recording, editing, mixing or mastering audio, editing video, sound designing or gaming, iLoud Micro Monitor ensures your production will translate well to the huge variety of consumer devices — headphones, home stereo systems, gaming consoles, car audio systems, TVs, and other listening systems.
With iLoud Micro Monitor, you will hear the truth in your music no matter whether you're mixing in your bedroom, mastering in a small studio or just listening to your favorite tunes at home. And best of all, it offers high-end features that can be found only in monitors in big budget studios, but without the high-end price tag.
High power, smallest footprint
When the original iLoud speaker was released, it set a new standard for portable power and sonic accuracy in an ultra-small, portable form factor. iLoud Micro Monitor is a natural evolution of that design concept, and just like popular predecessor, offer a completely new and unmatched sonic experience. iLoud Micro Monitors are specifically designed for small makeshift working spaces — bedroom studios, small project studios, on the tour bus or in a hotel room, and they are perfect as an additional reference monitor system for super nearfield listening.
Each tweeter and woofer is powered by ultra-efficient class D power amplifiers that push a total of 50W RMS with amazing low-end response down to 55Hz (-3dB) — the best bass response in its category. Each monitor sports a 3/4" silk dome tweeter, a 3" high-rigidity custom composite material woofer and a large-flaring front-firing bass reflex port. Thanks to these features, it's able to deliver smooth and extended high frequencies, an exceptionally open, focused midrange and a solid, controlled low end. Simply put, iLoud Micro Monitor's sound is so good that it's nearly inconceivable for a speaker system of this size and at this price point.
Sonically transparent
iLoud Micro Monitor sounds amazing and real. But why? Well, a part of that is due to its internal 56-bit digital signal processor (DSP). This DSP is responsible for things like taking care of the frequency and phase response of the monitors as well as also controlling the dynamic range so that the drivers are always under control and operating efficiently. It also acts as a digital crossover that allows for invisibly smooth transitions between the drivers themselves.
Also available in White
In addition to the original black finish, the iLoud Micro Monitor is also available in a modern white finish. You can select the color choice that best matches your home or studio set up.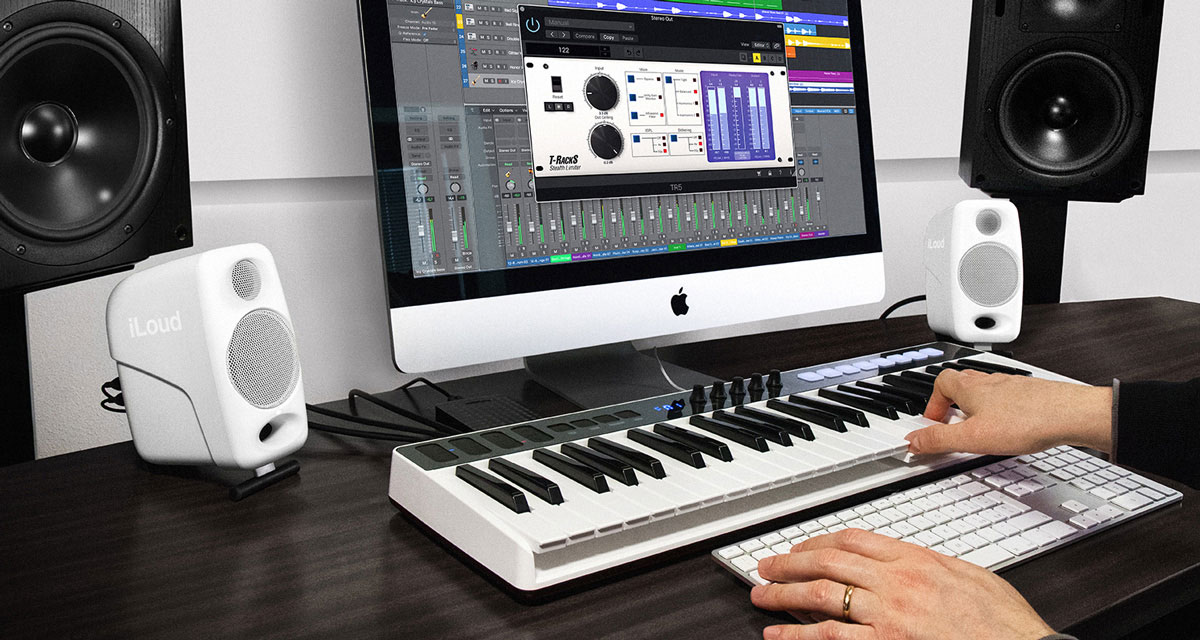 Ideal for small studios
Most home studios offer less than ideal space when working on audio and often resemble just a desk with a computer and speakers beside it placed against a wall. Most speakers are not designed for these small environments and sound boomy and undefined, but iLoud Micro Monitors have been designed to be the best possible reference monitor in these challenging "small room" situations.
iLoud Micro Monitor's small footprint saves space on your desktop and ensures closer placement to your ears thus minimizing room reflections. Plus, its internal DSP offers various EQ settings for optimizing bass and treble response as well as position compensation — this lets you switch between a "free field" and "desktop" setup effortlessly.
You can also position iLoud Micro Monitor at two angles of inclination thanks to the integrated isolation base that guarantees further mechanical de-coupling and purer sound. With these features you can optimize your listening experience to suit the characteristics of the room you're working in, therefore always ensuring that you're working in the audio the sweet spot.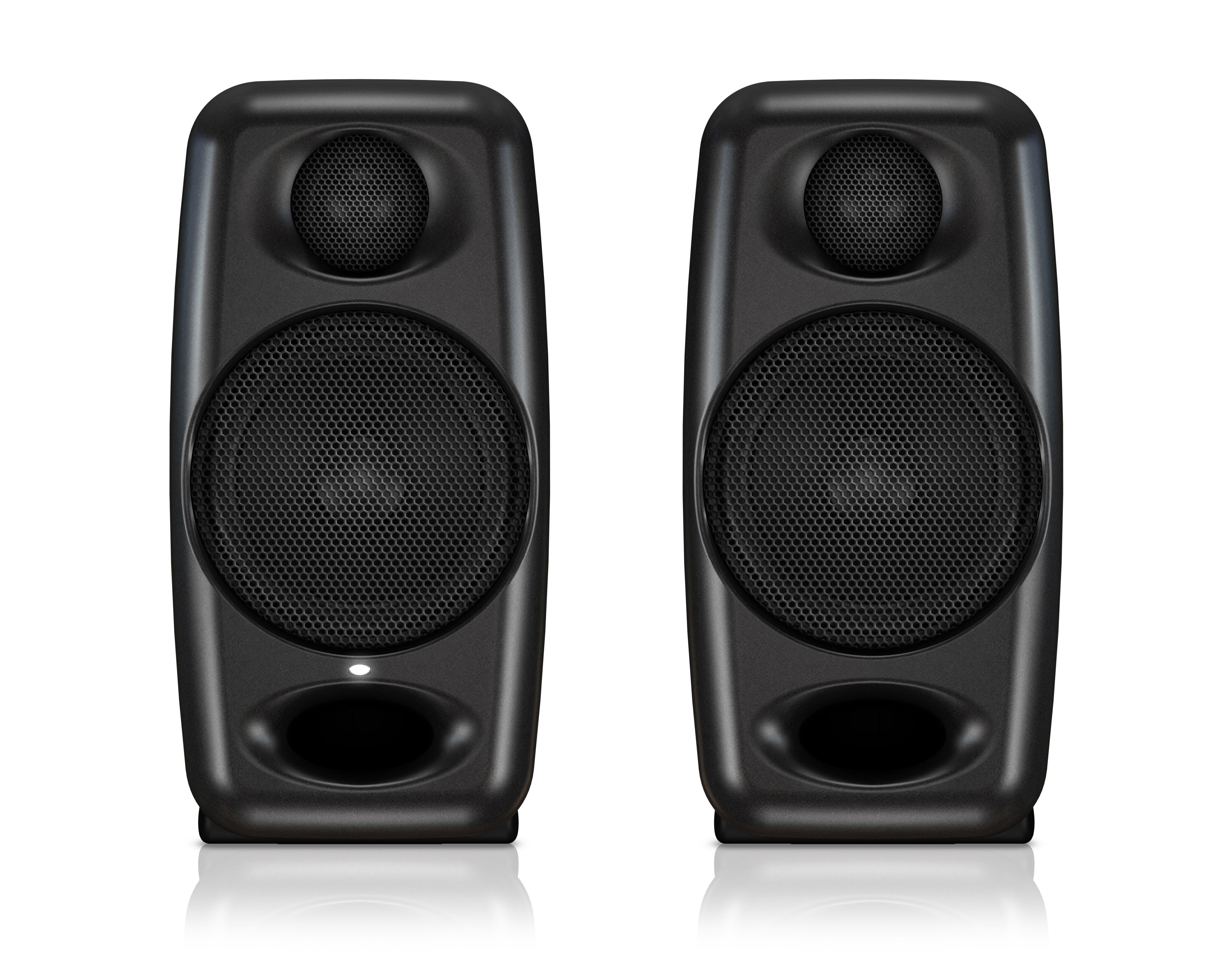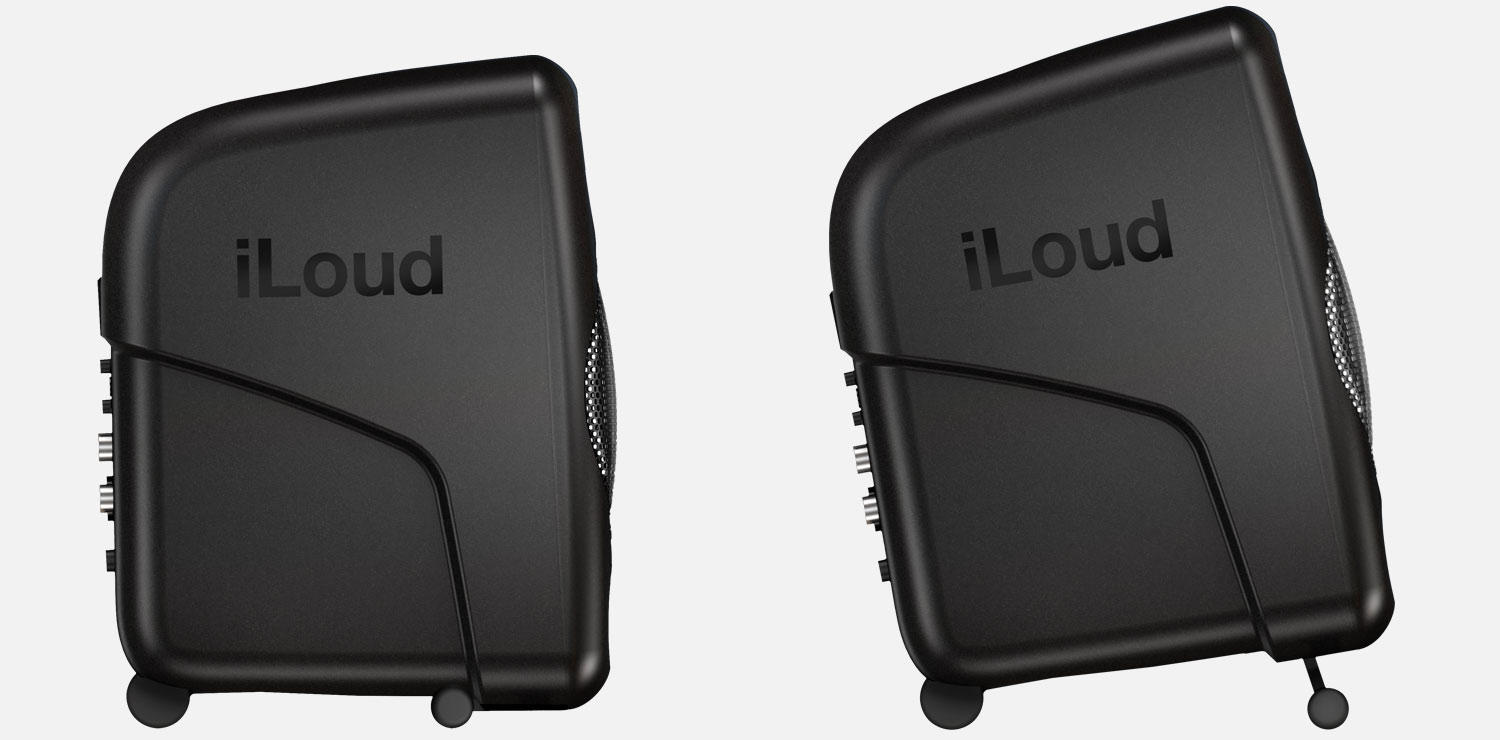 Free-field positioning
iLoud Micro Monitors also feature an integrated mic stand thread (UNC 3/8"-16) so you can easily place them on any regular pair of mic stands giving you the best possible monitoring conditions in the smallest places without adding expensive accessories.
Hi-end features without the high-end price
When it comes to small monitors, you're traditionally limited to two choices — cheap, "budget" monitors that can be better described as a couple of "wooden" boxes with "some kind of" speakers usually costing in the $100-$200 (per pair) range, or high quality monitors well over the $600-$700 (per pair). Only iLoud Micro Monitor offers you the features and characteristics of high-end monitors (sonic accuracy, definition, reference-response, bi-amplification, DSP control, positioning EQ, integrated isolation base) and more at almost the cost of a budget monitor. Now when you're working in small studio spaces, you can finally hear a perfect representation of your music without having to compromise between features and cost.
Get connected
You can easily use iLoud Micro Monitor with all your favorite gear. Sending an audio signal to it couldn't be easier. It has inputs for both RCA and 1/8" connectors, and it can also receive audio via Bluetooth from any Bluetooth-enabled device.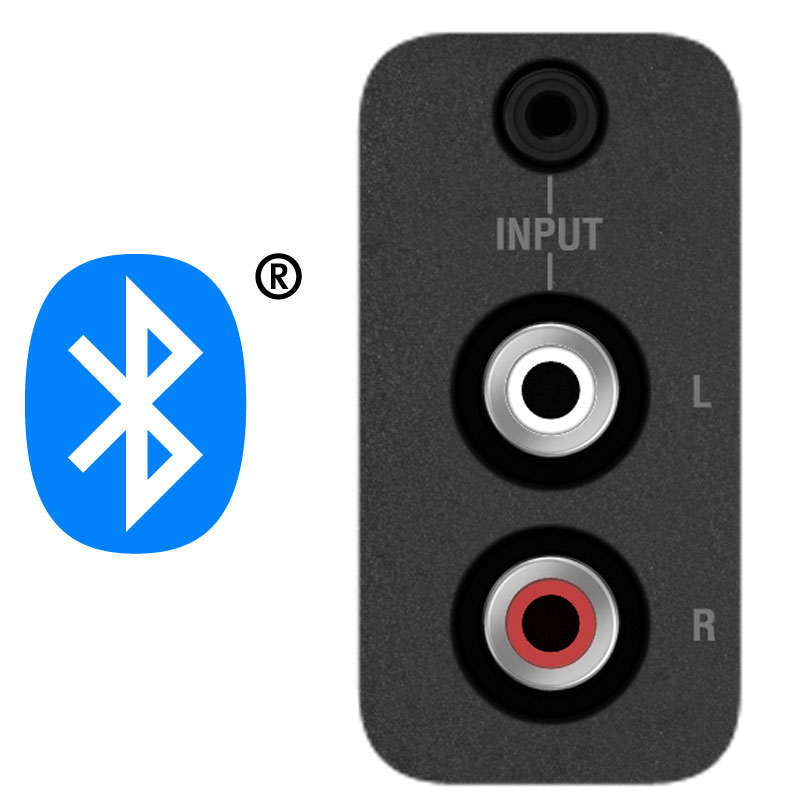 The first monitor that can travel
with you
Because iLoud Micro Monitors are the smallest – and lightest (1.7kg / 60.7oz) – monitors in the world, you can now for the first time ever have a true reference monitor system everywhere you go.
If you do productions on the go, you will now have a travel companion that will give you trustworthy sound anywhere — just pack them into your gigbag or backpack with your laptop and go.
In the bag
To protect your iLoud Micro Monitor when you're carrying it around, you can order the iLoud Micro Monitor Travel Bag, a durable, 100% polyester case featuring a stitched-in iLoud Micro Monitor logo, adjustable straps and a zippered pouch for cables and other small items.
Size: 11.8″ (30cm) x 7.8″ (20cm) x 7.1″ (18cm)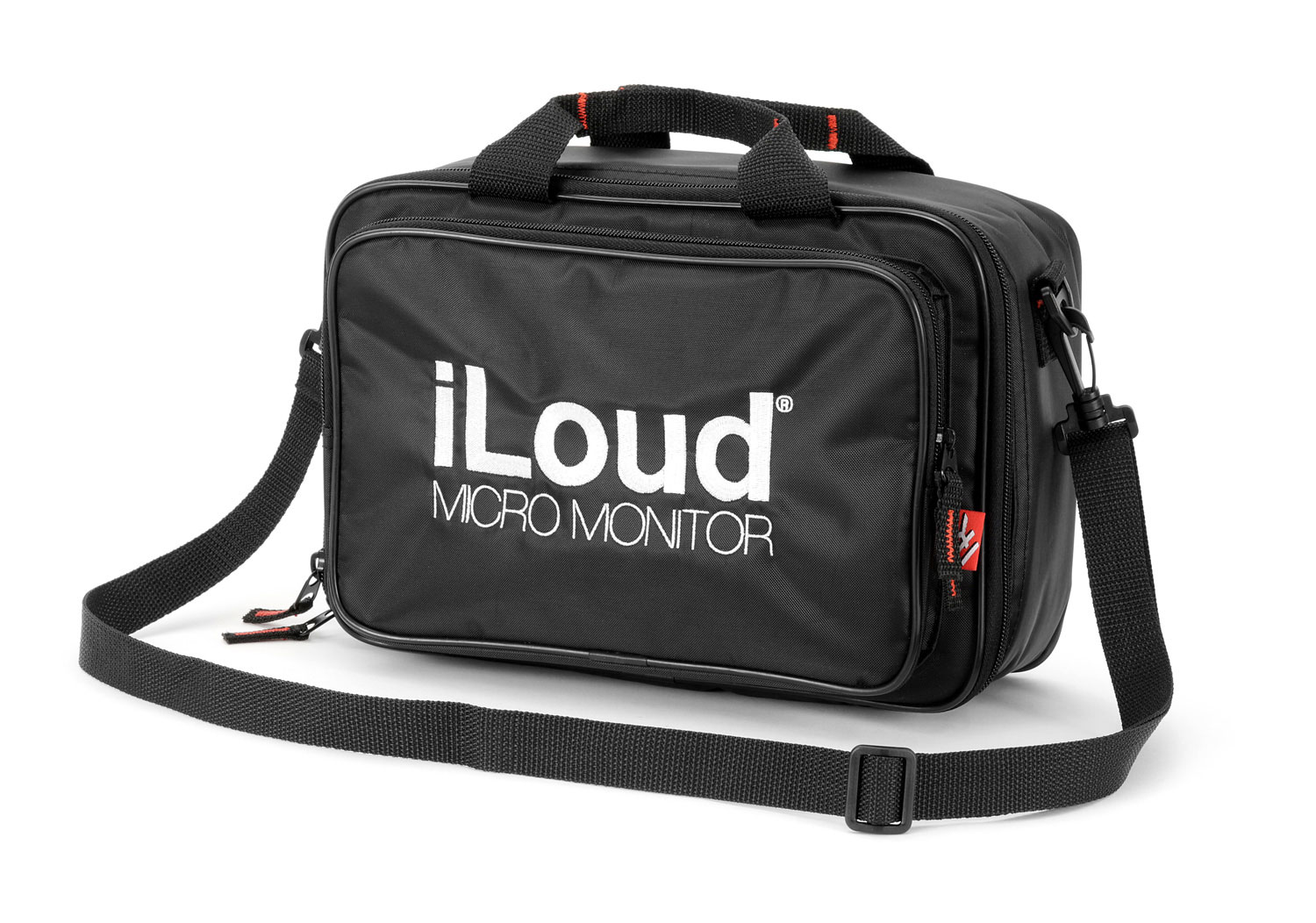 Features
Professional reference-quality sound
Advanced digital control with 56-bit DSP, controlled diffraction / low resonance enclosure and time-aligned crossover, deliver superior audio with ultra-linear frequency response.
Powerful Class D bi-amplification system (50W RMS) provides plenty of headroom with lightning-fast transient response.
High-rigidity custom composite material woofer plus large flare bass reflex port produces "best in class" bass response down to 55Hz.
High-quality woofer and tweeter — like ones found in high-end systems — without the high-end price.
Ultra-compact
The smallest footprint of any reference quality studio monitor system.
Fits anywhere — provides high-definition monitoring in the tightest spaces.
Can be placed closer to you than other monitors reducing the effects of room reflections and standing waves.
The first monitor system you can easily carry with you anywhere you go.
Flexible placement and connections
Desktop or monitor stand placement with selectable EQ correction and adjustable integrated isolation base optimized for your setup.
Mounts on regular mic stands for free-field positioning with no need for additional accessories.
Wired connection with 1/8" stereo mini-jack and RCA inputs for recording, mixing and mastering.
Wireless Bluetooth connection for listening to your music anywhere.
Specs
iLoud Micro Monitor Specifications
Type: 2-way active, bi-amped studio monitor
Frequency response (-10dB): 45Hz – 22kHz
Crossover frequency: 3kHz
Tweeter: 3/4″ silk dome, neodymium magnet
Woofer: 3″ high-rigidity custom composite material
Maximum SPL @ 50cm (with two speakers playing, averaged sinewave from 100 Hz to 10 kHz): 107dB
Number of amplifiers: 4
Amplifiers type: High Efficiency Class-D
Total output power (both speakers): 70W (peak) – 50W RMS
Low frequency output power (single speaker): 18W RMS
High frequency output power (single speaker): 7W RMS
Acoustic settings: high shelf (0dB or -3dB from 4kHz up); low shelf (0dB or -3dB from 250Hz down); desktop (+3.5dB between 1kHz and 10kHz and -1dB below 400Hz)
System total latency (analog input): 1.02 ms
System total latency (Bluetooth input): 155 ms (depends on host implementation, tested on iPhone 6S / iOS 10.0.1)
High performance Bass-Reflex port
Totally DSP controlled
Connectors: 2 x RCA input (cable included); TRS 1/8″ stereo input; 4-pin speaker connector (cable included)
Bluetooth® compatible with A2DP protocol
Size: 180mm/7.09″ x 135mm/5.31″ x 90mm/3.54″
Weight: 920g/32.45oz (left speaker), 800g/28.22oz (right speaker), 1,720g/60.67oz (left + right speaker)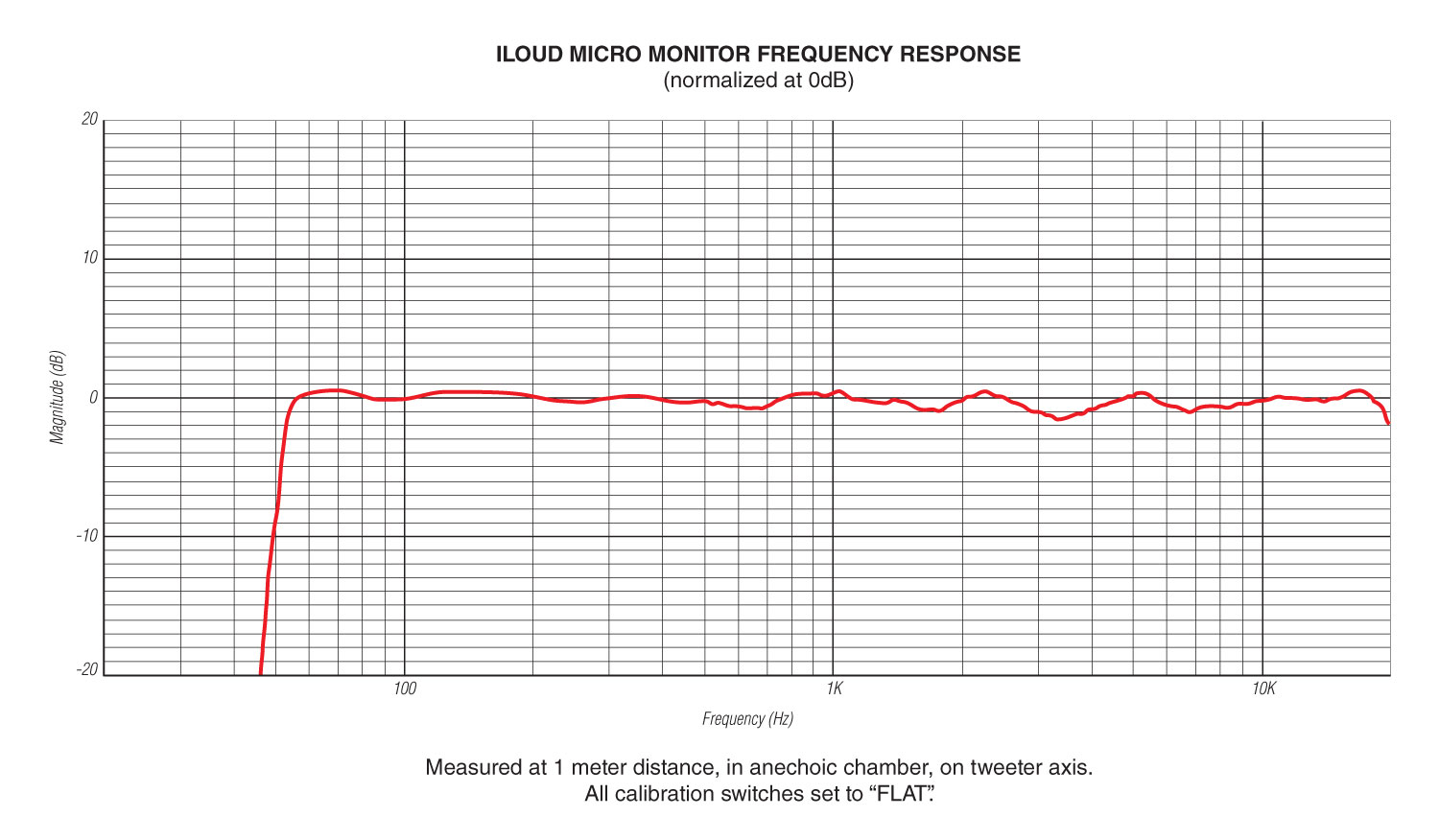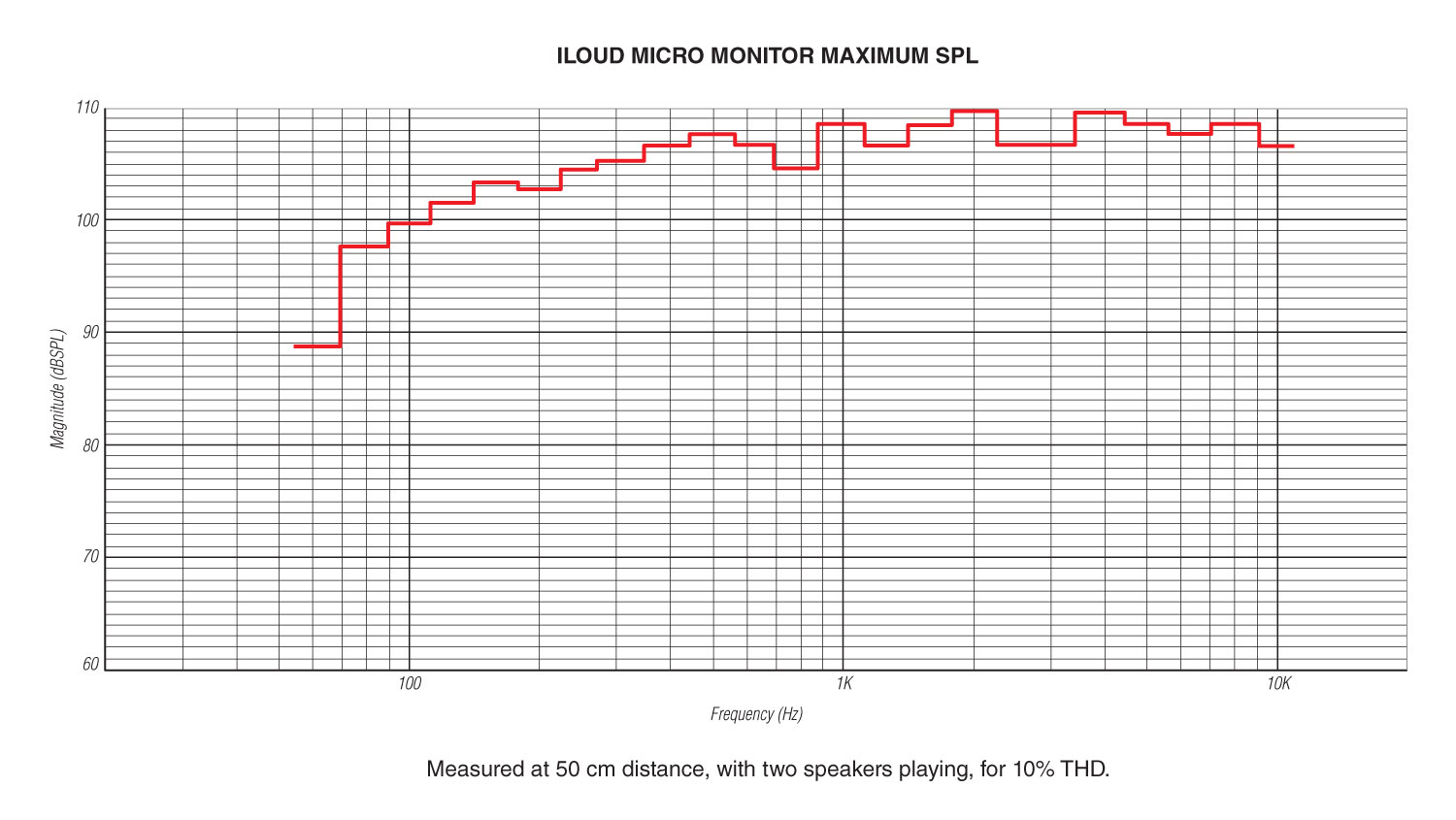 Package includes
2 x iLoud Micro Monitor speakers
Power supply unit
Power supply cable
4-pin speakers connection cable (1.5m/59.1″)
TRS 1/8″ stereo to 2 x RCA cable (1.5m/59.1″)
Dimensions
Size: 180mm/7.09″ x 135mm/5.31″ x 90mm/3.54″
Weight: 920g/32.45oz (left speaker), 800g/28.22oz (right speaker), 1,720g/60.67oz (left + right speaker)
System Requirements
iLoud Micro Monitor is equipped with a wired connection (RCA and TRS 1/8″ stereo input) compatible with Mac, PC, iPhone, iPad, iPod, Android smartphones and tablets and MP3 players. It's also compatible with most Bluetooth®-enabled devices compatible with A2DP protocol.