Performance
Unrivaled Punch and Detail.
The IN-Series monitors are unlike anything you've ever heard. The three-way design lets both the woofer and the tweeter do less work, resulting in better headroom and lower distortion across the frequency spectrum.
At the same time, the coaxial architecture of the midrange and tweeter result in hyper-realistic imaging. This means that you'll be able to hear subtle details in your mix with pinpoint precision.
The design of the system comes together to allow the IN-Series monitors to act as acoustic point sources. They enjoy all the benefits of both traditional 3-way systems and traditional coaxial speakers, with none of the drawbacks traditionally associated with either.
All of this make the IN-5 and IN-8 extremely accurate and easy to mix on. You'll be able to work faster and with more confidence, and your mixes are going to translate to other systems with less work.
39 Hz
Lower Frequency Response
< 2% System THD
85 dB @ 1M
37 Hz
Lower Frequency Response
< 1.4% System THD
94 dB @ 1M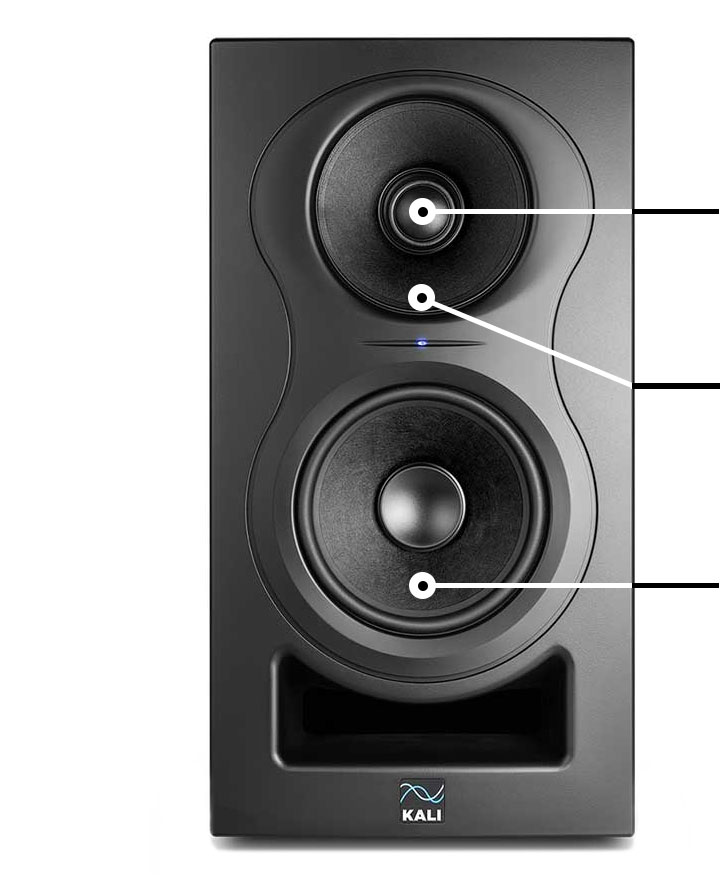 Soft Dome Tweeter
Smooth, effortless highs.
Profile-optimized Midrange Driver
Clear mids and excellent directivity all the way to the top of the frequency response.
Powerful Woofer
Clean, punchy bass that doesn't disrupt the mids and highs.
| | IN-5 | IN-8 |
| --- | --- | --- |
| Powered: | Yes | Yes |
| Amp Class: | D | D |
| Power Config: | Tri-Amped | Tri-Amped |
| LF Power: | 80 W | 60 W |
| Mid-Range Power: | 40 W | 40 W |
| HF Power: | 40 W | 40 W |
| Total Power: | 160 W | 140 W |
| LF Driver: | 5-Inch Paper | 8-Inch Poly-Coated Paper |
| Mid-Range Driver: | 4-Inch Optimized Profile Paper | 4-Inch Optimized Profile Poly-Coated Paper |
| HF Driver: | 1-Inch Textile Dome | 1-Inch Textile Dome |
| Freq. Response (-10 dB): | 39 Hz – 25 kHz | 37 Hz – 25 kHz |
| Freq. Range (±3 dB): | 47 Hz – 21 kHz | 45 Hz – 21 kHz |
| LF to Mid-Range Crossover: | 280 Hz | 330 Hz |
| Mid-Range to HF Crossover: | 2800 Hz | 3000 Hz |
| Recommended Listening Distance: | 0.2 – 2.2 Meters | 1 – 2.8 Meters |
| Max SPL: | 115 dB | 114 dB |